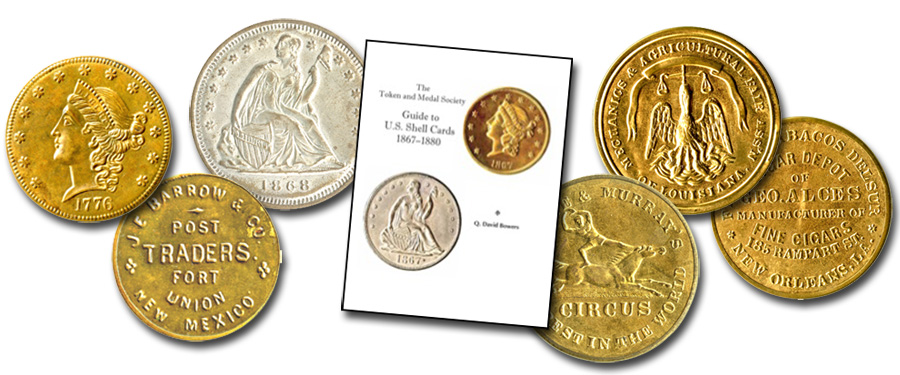 ​Question: At a recent coin club meeting a fellow collector exhibited a couple of "shell cards" from his collection but he only passed them around and said he didn't have much information on the shell card series. Can you help fill in some of the blanks?
Answer: As luck would have it, I have been immersed in shell cards for the past couple of weeks. Shell cards are advertising pieces from around 1867 through 1880. Shell cards come in many styles including those with embossed brass fronts with colorful paper stickers on the reverse; with mirrors on the front and embossed brass backs; and with embossed brass features on both sides. Some are thick and have pincushion edges. There is even a small group of shell cards whose merchants used tintype photos for the front with their ads on the reverse on paper or brass. There are literally hundreds and hundreds of types from many issuing states and cities, and even some very rare issues from the Colorado, Dakota, and New Mexico territories before they became states.
The Q. David Bowers Reference Collection of Shell Cards, some 700+ pieces strong and perhaps the most "complete" of any collection currently known, will be sold in four parts beginning with the first part in early August 2016, at the ANA World's Fair of Money in Anaheim, California. Part I includes 180 pieces with only a few duplicates offered. For the most part even the most "common" shell card of the series is many times rarer than, say, a 1909-S V.D.B. cent, though of course the popularity of the shell card series is nowhere near that of the Lincoln cent series. For even more information, check out the Stack's Bowers website in early August for an insightful look at the series. You may also pick up a copy of The Token and Medal Society Guide to U.S. Shell Cards 1867-1880 by Q. David Bowers. It's a great volume that makes for a grand read even if you have no intention of collecting shell cards. But, beware! I had no intention of collecting them either, until I read Dave's book and cataloged the first session of his remarkable collection. Now I'm hooked on these rarities from the past!